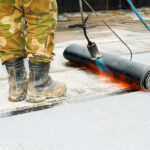 Option in Services Commercial roof restoration (aka roof renovation) in the Greater Houston area can be a smart alternative to a tear-off provided the flat or low-slope roof is a good candidate.
A pitched composition or asphalt shingle roof may also qualify for a recovery.
During the complimentary estimate, C & R Roofing Services qualified estimators can determine if your existing roof is a good candidate for a roof restoration service.
Part of our due diligence is to confirm with the city (where the building is in how many layers of roofing are allowed on your building. This would also apply to recover a flat roof with a torch modified system.
Below are the types of roof systems we are currently certified and licensed to install for a commercial roof restoration, renovation or recover in Los Angeles and surrounding areas. All of these roof systems can meet Title-24 compliance.
• Silicone Roof Coating Systems
• Elastomeric/Acrylic Roof Coating Systems
• Single-Ply Roof Systems, TPO & PVC
• Torch Modified or Modified Bitumen Recover
• Asphalt or Composition Shingle Recover